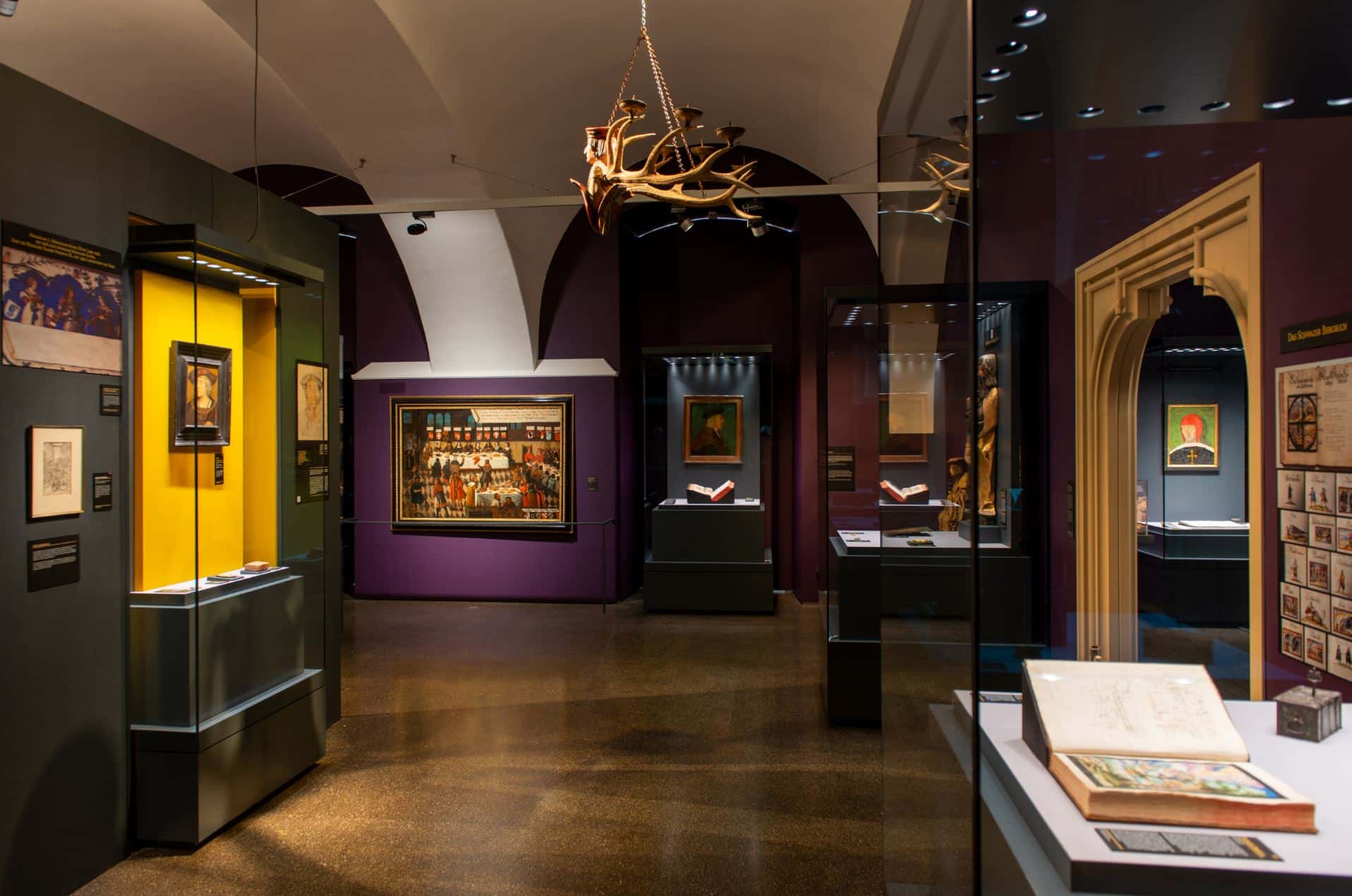 WE FREDERICK III & MAXIMILIAN I – CULTURAL HERITAGE ON THE MOVE!
Special exhibition 2022 in the extended Gothic Museum 
For the previous year's museum season, two emperors from the transition period of the Middle Ages to modern times were added to the neighbouring rooms of the permanent Gothic exhibition on the ground floor and extended to the manuscript room on the first floor. Frederick III and Maximilian I from the House of Habsburg – father and son. This special exhibition with the subtitle 'Their world and their time' will be continued in 2022 in a spatial area on the ground floor as well as in a different form as a show of traces with a focus on CULTURAL HERITAGE ON THE MOVE!
The huge demand from an interested audience and numerous requests for extending the 2021 special exhibition were the reason to make the world, the context and the period of these two personalities come alive again this year with new arrangements, broader perspectives and newly added items. Reasons for visiting again. Stay curious!
Video stations as an extended meeting room.

In its ambiguity and dynamism, this motto permeates the entire exhibition project from the very beginning. Searching, securing and showing the traces. In this year's exhibition, this can be experienced particularly impressively through video contributions from numerous experts. The stations are used to organise the overall show into a very special tour. The objects reflect their own history, have their own biography in the respective leap in time and space on their way through the centuries, are researched, restored, their functionality explored or placed into current contexts. Beyond the physical presence of the selected exhibits, experts unfold an expanded space for encounters from different perspectives: from the point of view of the history of culture and art, the history of mentality, restoration, archaeology, craftsmanship, functionality – all of them together, mostly. Discover current and exciting approaches with a mixture of expertise and aestheticism!

Art and culture. Faith, history and mentality.

The overall structure of the numerous exhibits allows you to experience the significance of Frederick III and Maximilian I with regard to the development of the Habsburg monarchy. 200 exhibits help better understand the life and work of the two emperors and their companions (e.g.. Knight Florian Waldauf, Siegmund von Dietrichstein, Wolfgang von Polheim) as well as this period of upheaval and change. Effective, symbolic and rich in history, we present you expressive portraits, panel paintings and sculptures, insights into the living and dining culture, weapons and armour for hunting, tournaments and war, numismatic treasures, coats of arms, hatchments, epigraphic peculiarities, magnificent certificates and seals, important manuscripts and 'bloomy' handicraft work. The special exhibition consists of a series of three presentation rooms. They take you to enthroned Emperor Frederick III, who awaits you in an imperial-like atmosphere!

Lenders from Austria, South Tyrol and Germany..

The majority of the items on loan may not always be available, should the exhibition be extended or moved somewhere else. Together with exhibits from Admont Benedictine Abbey and the profane part of the Mayer collection, the items on loan come from collections of ecclesiastical and public institutions as well as from private property: Diözesanarchiv Brixen (Brixen Diocesan Archives | Dr Rützler collection, Dornbirn | Lauriacum-Enns Museum | Schattenburg Museum, Feldkirch | Dr Edwin Oberhauser collection, Götzis | Steiermärkisches Landesarchiv (Styrian Provincial Archives), Graz | UMJ Alte Galerie, Graz | UMJ Landeszeughaus, Graz | UMJ Museum für Geschichte (Museum of History), Graz | Stadtgemeinde Grein (Municipality) | Stadtarchiv Hall i. Tirol (City Archives) | Stadtmuseum Hall i. Tirol (City Museum)/Pfarre St Nikolaus (Parish) | Tiroler Landesarchiv (Provincial Archives, Innsbruck | Landesmuseum für Kärnten (Carinthia State Museum), Klagenfurt a. Wörthersee | Stiftsarchiv Klosterneuburg (Abbey Archive), Münz- und Medaillensammlung (coins and medals collection) | Kremsmünster Abbey, art collections | Montanuniversität Leoben, university library and archive| Nordico Stadtmuseum (City Museum) Linz | Oberösterreichisches Landesmuseum (Upper Austrian State Museum), Linz | AG Bürgerschaft Obdach, Spitalskirche | Stadtgemeinde Peuerbach (Municipality), Schlossmuseum | Museum Innviertler Volkskundehaus, Ried im Innkreis | Benedictine Abbey Seckau | Augustinian Monastery of St Florian, art collection | St Paul Benedictine Abbey, numismatic collection | Stams Cictercian Abbey |Augustinian Monastery Vorau, Styria | Stadtmuseum Wels (City Museum) | Belvedere, Vienna | Order of the Golden Fleece, Vienna | Heiligenkreuz Cictercian Abbey, art collections of Neukloster Abeby, Wiener Neustadt | St George Catholic Parish Church, Wildpoldsried | Premonstratensian Augustinian Monastery Wilten | Private collections. Thank you for your trust!

A review of the 2021 special exhibition
Abbot Gerhard Hafner at the opening: "The 15th and 16th centuries were a time of great upheaval, realignment and reorientation from the Middle Ages to the modern era. Three events were particularly significant: The fall of Constantinople, the discovery of America and the Reformation. There are perhaps some parallels to our times, where upheavals are taking place in many areas. May this era of Frederick III and Maximilian I teach us that only through coexistence and tolerance can fruitful, mutual respect come about."