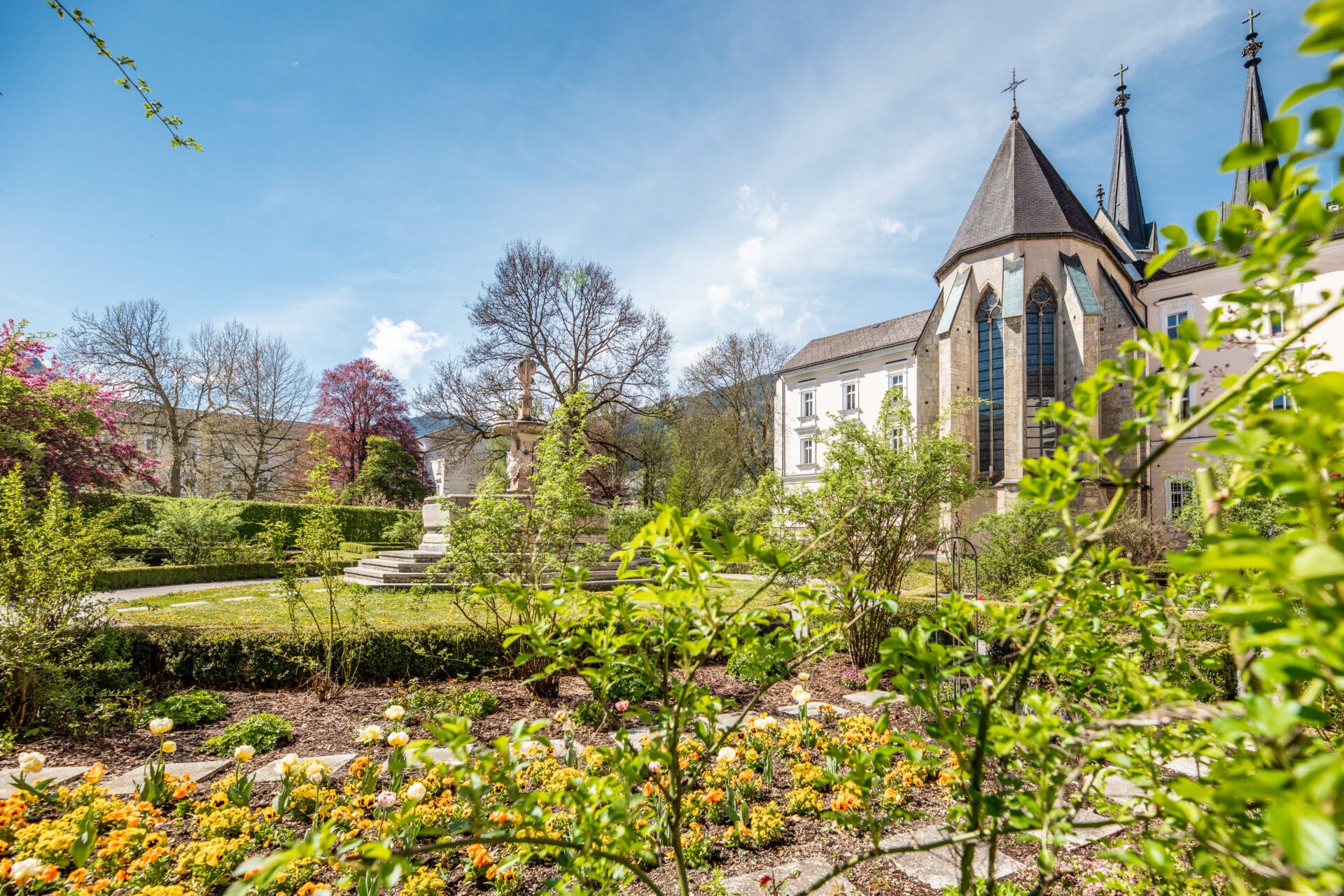 The longest journey is the journey in search of oneself
On this page, we would like to introduce you to pilgrimage routes that lead past or start at Admont Abbey.
Hemma Pilgramage Route
Saint Hemma was born in around 980 as the countess of Friesach-Zeltschach and founded the Benedictine monasteries Gurk and Admont. Starting at Admont Abbey, the Hemma Pilgrimage Route leads to Gurk in Carinthia, where Saint Hemma is buried in the cathedral crypt. The veneration of this saint in Carinthia, Styria and Slovenia harks back to a centuries-old tradition. She was born in around 980 as the countess of Friesach-Zeltschach. Her charitable works and deeds as a benefactor made her well known among the population.
Route
The pilgrimage route is divided into 7 stages, and, of course, everyone can put together their own individual route from these. There are numerous sights along the way which you should leave some time for. Things kick off at the very outset with Admont Abbey, with its library, which is run as the largest monastery library in the world. One of the most beautiful natural spectacles along the way is undoubtedly the crossing of the Lower Tauern over the Glattjoch, with the end of that stage coming at Oberwölz, the smallest town in Styria and a historically important city centre, surrounded by an impressive city wall.
Benedict Trail
The Benedict Trail was created in 2009 to mark the 200th anniversary of the resettlement of St Paul's Abbey in the Lavant Valley and is named after the order founder, Benedict of Nursia. The trail leads from Spital am Pyhrn via Admont, Seckau, Maria Buch, Wolfsberg, St Paul and Slovenj Gradec to Gornij Grad in Slovenia.
from Spital am Pyhrn to Gornij Grad/Slo. (126.1 km)
Duration: 37 h 30 min
Altitude profile: 3227 / 3170 m
Difficulty: 2 / 5
Route
The section of the Benedict Trail that passes through Styria leads us from monastery to monastery – from Admont via Seckau to Carinthia. Highlights of the landscape include the Gesäuse National Park and the crossing of the Lower Tauern. Nature and culture are provided in equal measure, with small towns complementing the luscious natural experiences.