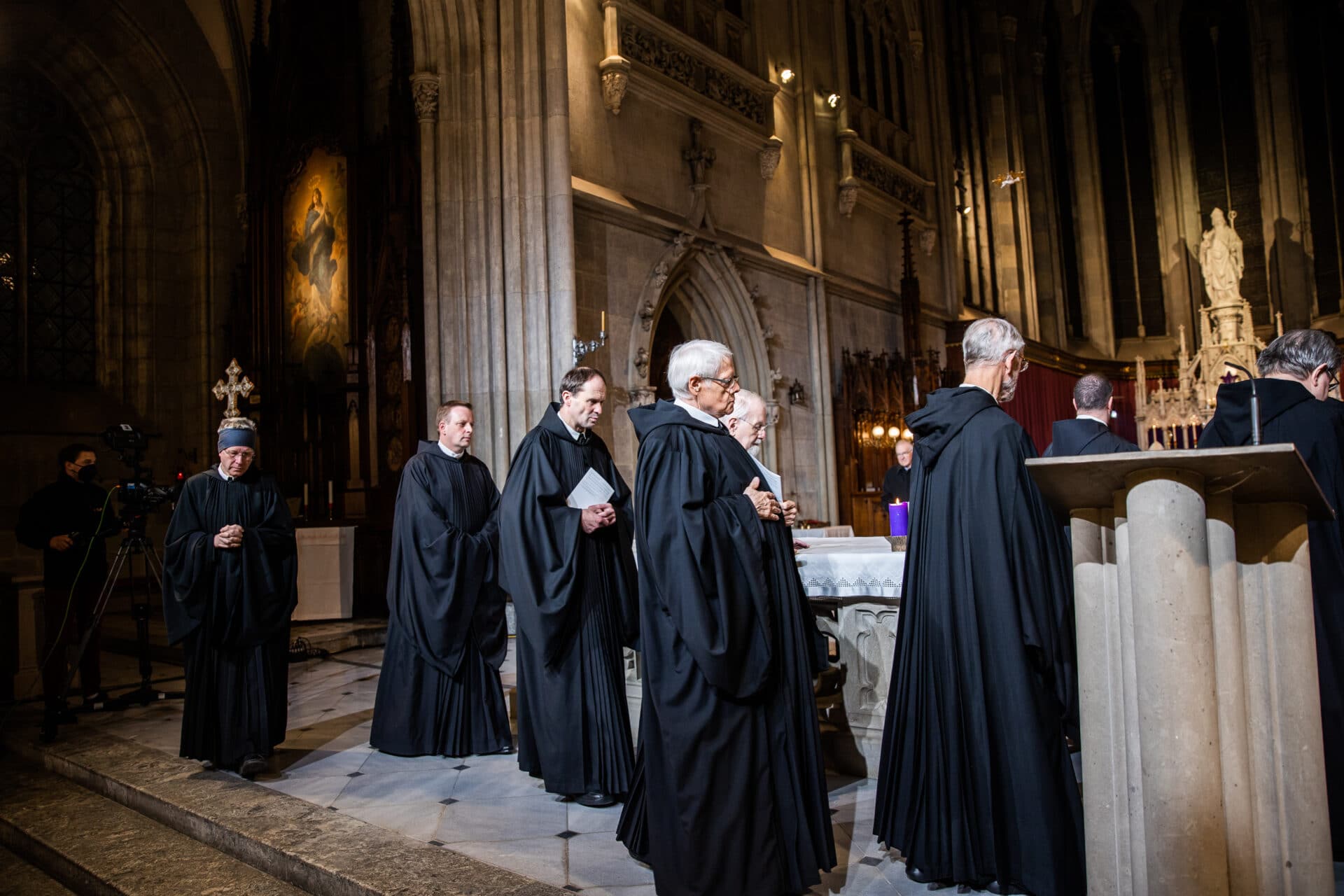 Lay brothers & guests at the Monastery
Closely connected to the monastery
Many people shape their lives, their familial, professional and social environment from this spirit of the Gospel. Some try to do this according to the Rule of St Benedict. Anyone who does this in closer connection with a Benedictine monastery, an abbey, can do so as a 'LAY BROTHER'.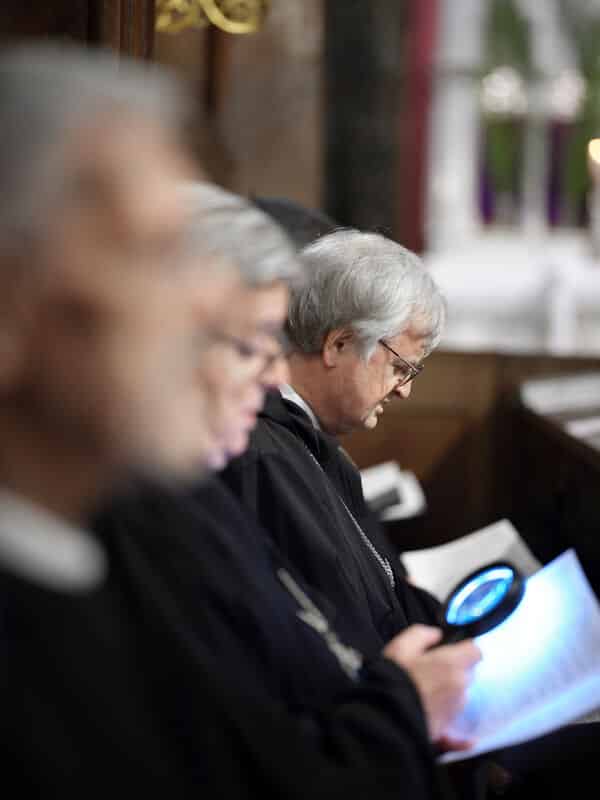 World lay brothers
So in our Abbey, we also have men who want to shape their Christian beliefs with the spirit of the Rule of St Benedict and who have joined us as world lay brothers. They are closely associated with us and we are closely associated with them in prayer and worship; we share in their joy and pain, hopes and fears and they share in those of the Abbey.
Requirements
The oblation is preceded by a trial and preparatory period (about one year). The abbot and rector for lay brothers decides on whether someone can be admitted to the probationary period after consulting the chapter. Decisive for this are the serious aspirations in the spirit of St Benedict to live according to the Gospel, with the firm will to become part of the monastery of St Blaise in Admont.
Those who are interested can address any of our Fathers or directly contact Father Koloman Viertler O.S.B. as the rector for lay brothers.
Hospitality
Above all, Admont Benedictine Abbey is a spiritual place that many people visit to recharge their batteries for everyday life, to clear their minds for what is important or to realign their lives towards God. Since there are only a limited number of rooms in the monastery, we recommend that tourists and culture lovers stay at one of the hotels in Admont (e.g., Hotel Spirodom).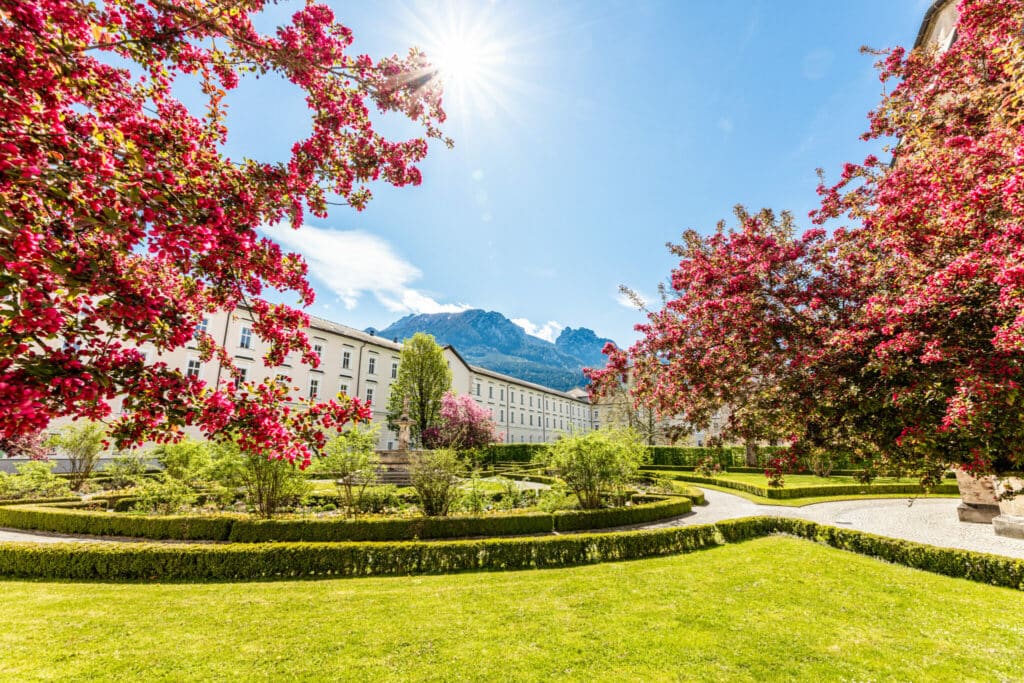 Overnight stay in Admont Abbey
In the monastery itself, there are four possibilities for staying overnight:
For groups
Parish councils, Christian youth groups, church-related conventions or advanced training courses can be held here for a number of up to 14 people.
FOR MEN AND WOMEN – A BREAK
You can stay with us for a week as a single guest. Various services (e.g., convent mass at 7 a.m.) are open to the public. There is a common room and a small room of worship. The Abbey Church and the Benedictine Chapel are open during the day. There are hiking opportunities and you should of course also visit our Abbey Library and the Museum You can end your stay with a pilgrimage to Frauenberg.
For pilgrims
Our monastery is located on various pilgrimage routes (Benediktsweg (Benedict Trail), Hemma Pilgerweg (Hemma Pilgrim Trail), Mariazell) and is gladly used as overnight accommodation.
FOR MEN –
TEMPORARY MONASTERY RESIDENCY
Men can take part in our hours of prayer. We pray several times a day (vigil and lauds at 6:15 a.m., holy mass at 7 a.m., noon prayer at 12:15 p.m., and vespers and compline at 5:45 p.m.). 
All hours of prayer take place in the cloister (living area of the monks).
Each room has its own shower and toilet.
Please contact the Abbey's Director of Guests in good time: