Source material from the last 950 years!
The archive at Admont Benedictine Abbey keeps safe a wealth of source material from the last 950 years, since the monastery was founded.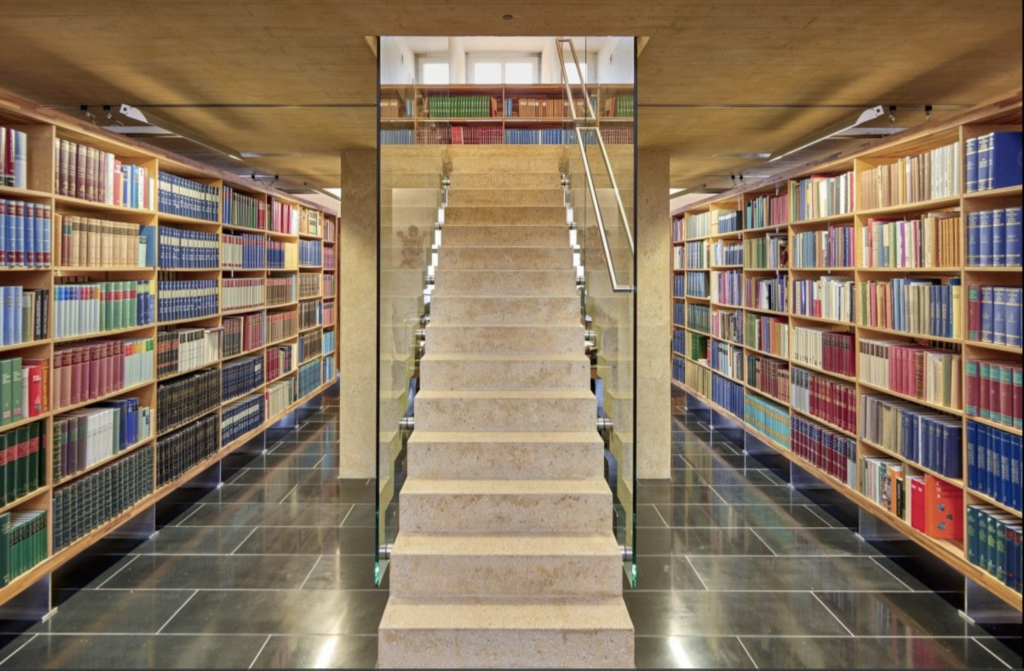 All those who are interested in doing research on churches, monasteries, the state, economy, forestry, family and land can use it.
Archive collections
In addition to a rich inventory of documents and rent rolls, the Admont Archive preserves the personal files of monks, their correspondences and bequests, the archival documents of abbots as well as correspondences of the individual administrative divisions of the monastery, right up to modern times.
In addition, the extensive archival documents of the market town of Admont, all the monastery parishes, priories and authorities can be accessed. After all, the stack-rooms also contain sources on forestry, mining, the former Admont Nunnery, and much more.
It is also important to mention the special collections, above all coin collection, stamps, an extensive collection of photos, maps and plans.
ONLINE ARCHIVE COLLECTIONS ONLINE DOCUMENTS ONLINE MUSIC COLLECTIONS ONLINE REGISTERS OF INCORPORATED PARISHES
Library collections
'A monastery without a library is like a fortress without an armoury'. This saying is entirely justified: for books have always been the spiritual 'armour' of religious. They were required for liturgy and spiritual reading as well as for scientific matters, for teaching and administration.
The history of the Abbey Library begins with the foundation of the monastery in 1074. It is pretty certain that the small group of monks from Salzburg, who took up monastic life in Admont in the autumn of 1074, brought a basic stock of books from their mother monastery St Peter. In addition, early book donations were made by the founder of the monastery, Archbishop Gebhard of Salzburg.
PRINTED WORKS INCUNABULA DIGITALISED CARD CATALOGUE OF THE PRINTED WORKS FROM ABOUT 1980 MANUSCRIPT COLLECTIONS
Use & opening hours
The archive and library collections may be used at the following times after receiving permission from Abbey Archivist and Librarian Fr. Maximilian Schiefermüller OSB:
Tuesday to Thursday, 9 a.m. – 12 p.m. and 1 p.m. – 4:30 p.m.
+43 (0)3613/2312 602 archiv@stiftadmont.at
Permission is given in compliance with the User Regulations.
Exhibition catalogue von Abrogans und Nibelungen
Admont Benedictine Abbey (ed.): Von Abrogans und Nibelungen. Sensational finds of German literature in Austria's monasteries. Special exhibition in the Abbey Library from 25 March to 15 November 2018. Passau: Pedagrafie Fotografie & Verlag 2018. 72 pages, colour illustrations. ISBN 978-3-945161-08-1
The catalogue is available at a price of €9.90 (plus shipping costs) from Dr Karin Schamberger (see contact details below).
Mag. Dr. Karin Schamberger M.A. (LIS)
Librarian
Users (hereinafter: the user) must prove their identity during their first visit and acknowledge the provisions of the archive and library rules as binding through their signature.
The user must disclose his research objectives to the Abbey Archivist and Librarian as accurately as possible; the Abbey Archivist and Librarian can only offer advice; the user has to work with the archival documents or books on his own. Required previous knowledge (literacy skills, language) is required. Instructions by the archive and library personnel must be obeyed.
The collections can only be accessed in the reading hall under supervision. No exceptions can be made. Entering the stack-rooms is not permitted. Lending archival documents and books to private individuals is not allowed.
Only sorted and undamaged archival collections that are allowed to be accessed from the archives (= 50 years after closing of the file or, in the case of personal effects, 50 years after death) and do not fall under other protective provisions will be handed out.
The user undertakes to treat the archival documents and books handed to him with the greatest possible care, to keep them in their existing condition and, upon returning them, to put them back properly in the labelled boxes or folders. It is strictly forbidden to make notes in them, etc., to use archival documents as a writing pad and to place open archival documents or books on top of each other. Careful handling of archival documents and books means the gloves provided must be worn. The use of ballpoint pens and fountain pens is prohibited. The user is liable for any damage caused during use.
Die Anfertigung von Fotokopien ist nur mit Genehmigung in beschränktem Ausmaß möglich, sofern der Erhaltungszustand der Archivalien und Bücher dies zulässt. Die Kosten sind beim Stiftsarchivar bzw. -bibliothekar zu begleichen. Fotokopien von Urkunden und Akten mit Siegelabdrücken werden nicht angefertigt, selbiges gilt auch für Archivalien, die nur mit Sondergenehmigung benützt werden dürfen. Gebühren für Fotokopien werden laut Gebührenordnung eingehoben.

Die Anzahl der gleichzeitig auszugebenden Archivalien und Bücher ist nach Ermessen des Stiftsarchivars und –bibliothekars beschränkt. Der Einsatz von elektronischen Datenerfassungsgeräten im Lesesaal ist nach Vereinbarung möglich. Beim Verlassen des Arbeitsplatzes hat der Benutzer den Abbruch seiner Arbeit bekannt zu geben.

Bei Veröffentlichungen ist jeder Benutzer verpflichtet, die aus den Beständen des Archivs und der Bibliothek verwendeten Archivalien zu zitieren (Bezeichnung: Archiv und Bibliothek des Benediktinerstiftes Admont [ABBA], Bestand, Schachtel, Faszikel oder Nummer). Editionen und Reproduktionen von Archivgut sind genehmigungs-pflichtig. Bei Veröffentlichung oder Vervielfältigung von Forschungsergebnissen, die aus Beständen des Archivs und/oder der Bibliothek gewonnen werden, ist dem Stiftsarchiv Admont unaufgefordert und kostenlos ein Belegexemplar zu übermitteln. Dies gilt auch für ungedruckte Diplomarbeiten und Dissertationen.

Der Benutzer erklärt, die einschlägigen Bestimmungen des Personenstandsgesetzes, Datenschutzgesetzes (DSG) und Urheberrechtes zu kennen und verpflichtet sich ausdrücklich mit seiner Unterschrift, bei der Publikation von Forschungsergebnissen, die auf den zur Einsicht vorgelegten Materialien basieren, die genannten Rechtsvorschriften zu beachten und keine geschützten personenbezogenen Daten zu veröffentlichen. Zuwiderhandlungen hat der Benutzer selbst zu vertreten.

Verstöße gegen die Benutzerordnung können die sofortige Ausschließung von der weiteren Benützung zur Folge haben.